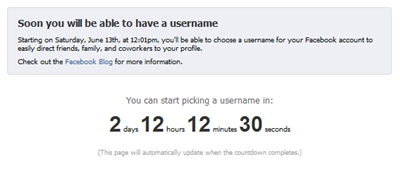 Facebook has finally decided to give its users an easier way to share their profiles. In about two days, the social network will let users chose an alias for their Facebook profile on a first-come, first-serve basis. On Saturday June 13 at 12.01 a.m. Eastern Time, you can grab a username of choice that will redirect to your Facebook profile. Anyone who joined Facebook before usernames were publicly announced at 3 p.m. (EDT) on June 9, 2009 will only be eligible to claim usernames on Sunday, June 28, 2009.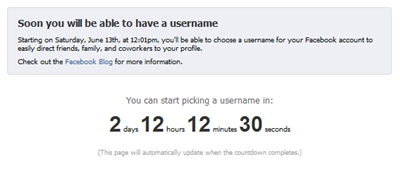 Currently, users' profiles appear as http://www.facebook.com/profile.php?id=123456789. The new unique URL selection will allow you to have a unique URL for your Facebook page in the format http://www.facebook.com/yourusername. A notice on users' homepage will also be available, with instructions on how to activate this new URL. Your new Facebook URL is like your personal destination, or home, on the Web. People can enter a Facebook username as a search term on Facebook or a popular search engine like Google, for example, which will make it much easier for people to find friends with common names. Your username will have the same privacy setting as your profile name in Search, and you can always edit your search privacy settings here. But do note that once you had selected your username, you won't be able to change or transfer it. Refer to Facebook FAQ for more information.
Tons of people are expected to start claiming their unique URL, so if you have a common name, you should keep close to your computer late Friday night. Facebook recommends choosing a username as close as possible to your true name, and the network will prevent the registration of a username that infringes a trademark. For rightful owners who are interested in preventing their trademark from being used as usernames, you could submit a form here.
Facebook fan pages will also be eligible for personalized URLs but with a few conditions: a page must have a minimum of 1000 fans and it must be live on Facebook prior to May 31, 2009. Like with individual users, a fan page is allowed only one alias. Visit Facebook Pages/Public Profiles's Notes for more details on Facebook fan pages.
Social media sites with your unique URLs are becoming an important part of one's online social life, as it makes it easier for others to find you by just typing your name after the service's URL (i.e. http://www.facebook.com/SocialMediaOnline).
If you enjoyed this post, please share it with your followers on Twitter! I appreciate it, and I'm sure those who get it as a result of you sharing it will appreciate it too!
P.S. Be sure to leave your comments while you're here. I always look forward to your thoughts and feedback. So I'm listening… Drop me a comment.
Related Posts